U.S. HOTEL INDUSTRY OVERVIEW
STRONG RECOVERY The U.S. hotel industry has exhibited notable resilience with September 2023 room demand ranking as the second-highest ever for the month. This suggests heightened consumer confidence and the hospitality industry's resurgence post-pandemic challenges.
BUSINESS AND GROUP TRAVEL The brisk recovery of business and group travel is evident from weekday occupancy gains in the top markets. Such trends suggest that in-person meetings, conferences, and group events are on the rise.
SAN FRANCISCO'S NOTEWORTHY REBOUND From being the slowest among the top 25 markets to recover, San Francisco achieved nearly 90% weekday occupancy by September's end, indicating a potential resurgence in tourism or business events.
PREVIOUS YEARS' COMPARISON September 2023, while impressive, lags slightly behind 2022 in occupancy rates. This could be attributed to increased supply, pointing to the industry's expansion.
ROOM DEMAND VS. OCCUPANCY An uptick in room demand with a marginally lower occupancy rate indicates the industry's growth in infrastructure, possibly due to new hotel openings or capacity expansion of existing ones.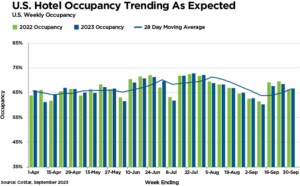 GLOBAL HOTEL INDUSTRY PERFORMANCE
GLOBAL OCCUPANCY TRENDS
There was a minor dip in global occupancy, settling at 69%. However, this decline mirrors similar fluctuations seen in 2019, hinting at possible seasonal shifts or specific global events affecting the sector.
KEY METRICS
A substantial year-over-year growth was noted in the Average Daily Rate (ADR) and Revenue per Available Room (RevPAR), emphasizing the global hotel industry's recovery and potential for growth.
PERFORMANCE OF TOP 10 COUNTRIES BY SUPPLY
These nations collectively experienced a dip in occupancy week-over-week but showed an increase in ADR. This suggests a positive trajectory since late June of the same year.
GLOBAL OCCUPANCY TRENDS
The concept of workcations is gaining prominence due to the increasing prevalence of remote work. Workcations allow individuals to blend work and leisure, enabling them to explore new destinations while fulfilling their professional commitments. This trend aligns with the changing work dynamics brought about by remote work, offering individuals the flexibility to travel and work simultaneously.
Country-specific Highlights
Japan: Demonstrated the most remarkable occupancy growth among the top 10, with potential influence from the mid-autumn festival.
China & Indonesia: Both nations marked strong RevPAR growth rates, underscoring their market resilience.
United Kingdom: While it had the highest occupancy among the top 10 countries, its year-over-year growth was more modest.
UNIFIED CONCLUSION
The U.S. and global hotel industries are demonstrating remarkable resurgence post-pandemic, with areas like Japan and San Francisco leading the recovery. Influenced by local events and policies, this upward trend highlights the sector's adaptability. Continued vigilance and strategy will be pivotal in maximizing growth.
Sources: US Hotel Industry Sells Near-Peak Number of Rooms in September, CoStar; STR